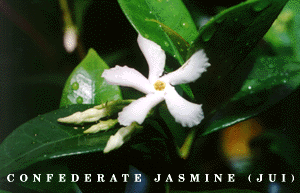 Your Favorite Plants
Welcome to the Your Favorite Plants home page.
For those of you who have been here before, welcome back!
©1995 Photos copyright Nari Bhatia
Oh! Those wonderful memories of back home where growing fragrant flowers was something we took for granted. Even if one could not grow them, flowers could be purchased commercially and it was enough for decorations, poojas, gajaras, weddings and religious ceremonies. Even though the name Jasmine could be very confusing, its fragrance is what people want no matter what color the flowers have.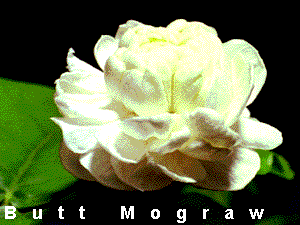 Almost all of the Jasmine plants bloom freely and have fragrance. To grow these plants outdoors, you have to be in zone 8 or higher. Jasmines like hot and humid conditions during the day, and cool temperatures at night. Since frost can kill these plants, with care one can successfully grow these as house plants. Although common names may differ in different languages other than mentioned here, fragrance of these flowers remain common in our memory. The most fragrant flower amongst all Jasmines plants is the variety known as Jasminum Sambac 'Grand Duke of Tuscany' commonly known as 'Butt Mograw', 'Gundu Mallipoo' 'Motia'. This variety is a very slow grower and the flowers stay open for a long period of time and do not fall off and dry right on stem.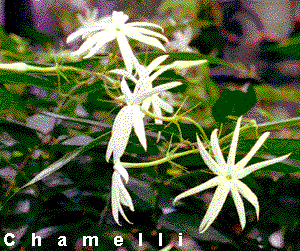 Jasminum Sambac 'Maid of Orleans' known by its common names 'Mograw', 'Motiya', 'Bela', 'Mallipoo', is the most popular of all the jasmines in the world. It is known for its sweet scented flowers which are borne in profusion. The flowers drop off within 24 hours and are replaced with more the next day. Jasminum Nitidum known by its common names 'Chamelli', 'Jui' is grown as a climber or bush. With distinct pink buds and glistening white star shape sweetly fragrant flowers, the ovate leaves are very attractive dark green get larger with age. Cestrum Nocturnum commonly known as 'Raat Ki Rani' really lives up to its name. Flowering 2 to 3 times a year as long as the proper conditions are provided. In the northeast area blooming from August on and producing pale green flowers in clusters. Opening at night, flowers with its intoxicating fragrance makes its presence known from a great distance.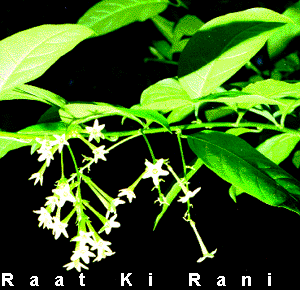 Counting the variations amongst species, there are atleast 20 to 30 different varieties of jasmine plants like the tiny white fragrant flowers (J. Volubile 'JUI' a fragrant creeper), Yellow (J. Humile Revolutum fragrant creeper), Pink (J. Stephanense a creeper but not so fragrant), white with pink buds (J. Officinale Grandiflorum 'PITCHY', 'Jatee', 'Jati-Jai', 'Kund', 'Jaji' very fragrant creeper), with varying degree of fragrance sweet Yellow bushy (J. Odoratissimum) to fruity White creeper (J. Tortuosum 'SUN-A-JAJI'). With patience and care fragrance is within your reach.
Bhatia Nurseries
A Division Of: PC Link Corp.®
63 Salem Road
Township Of Washington, NJ 07676

Phone (201) 967-7040 Fax (201) 967-7042
Click on one of the options below to see descriptions and prices of all the plants.