Epiphllum Oxypetlum. It is a miracle to see this plant grow specially when it goes in to flower. The buds form on the side of leaf and when fully formed, they look like Dutchman's pipe. In the evening just around sunset, flower bud when ready, start to open slowly and by about midnight open fully. One can share this experience with friends and relatives as this happens right before your eyes.
The white flowers are fragrant and can measure 9"-12" accross. This beautiful flower last for only one evening as by morning break, the flower dies. Surprisingly this plant needs the least amount of care and can be grown indoors all year long. The plant does need sunny window to produce flowers during summer months. If you are worried about watering this plant while you are going on vacation, you can let your mind at ease as this plant can withstand dry soil for a very long period of time.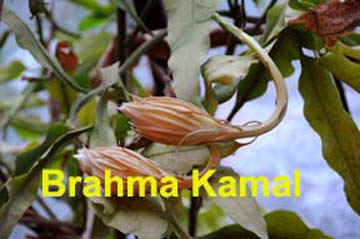 Prices for Potted Plants
| Indian Name | Botanical Name | 2.5" | 4" | 5" | 6" | 10" |
| --- | --- | --- | --- | --- | --- | --- |
| Brahma Kamal | Epiphllum Oxypetlum | 15.00 | 20.00 | . | 40.00 | . |
Bhatia Nurseries Home
Please check the price list page for shipping information.
Bhatia Nurseries
Division of
PC LINK CORP.
63 Salem Road
Township of Washington, NJ 07676
Tel. 201.967.7040
Email: naribhatia@bhatia-nurseries.com
Please note that there is no retail outlet at this location and the Nursery is not open to public